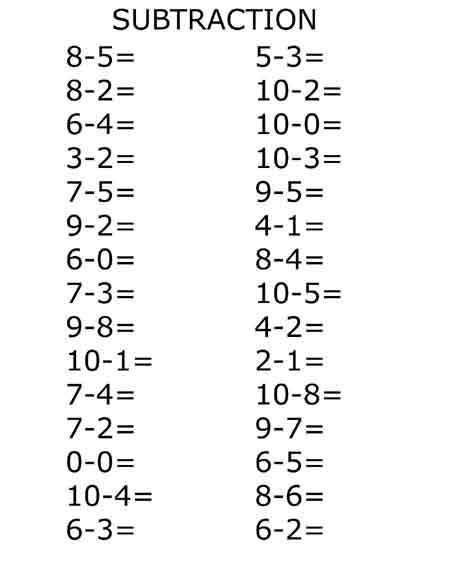 Free Printable Worksheet: Beginner Subtraction – Kindergarten
Click here for a free, printer-friendly PDF version of: Beginner Subtraction – Kindergarten
Free educational math, numbers, alphabet, shapes and more worksheet activities for kids in high quality printable format ready to print and use. Educational worksheets on all subjects for kids of all ages. Give your child a boost using our free, printable PDF preschool, kindergarten, 1st, 2nd, 3rd, 4th 5th, and 6th grade math worksheets. An excellent resource for all parents as well as teachers. Whether you want kids to master math or want to give them some reading practice, there are worksheets to suit your every need. From social studies to fun coloring  and challenging critical thinking worksheets, our collection of free and printable worksheets on a variety of subjects makes it easy to find exactly what you are looking for.
How to Print a PDF Document
Download a PDF reader. (Adobe makes a free reader program that you can download from their website.)
Open the PDF file.
Click "File" and then "Print".
Select your printer.
Set the range for your print job.
Choose any advanced printing options.
Print the document.
How to Print When You Don't Have a Printer
Print from the Library
Some libraries don't care if you use their printer as long as you keep it under 5 pages. However, be aware that none of the public computers will be connected to the main printer. You'll have to ask to use it.
UPS Store or FedEx Office
This isn't free but it's an option. You can stop in the store directly with your document on USB stick. Or, use one of the cloud storage and file-sharing services like Dropbox or Google Drive and pick up the document at the store.
In addition to worksheets for kids, we also offer printable legal forms and downloadable phone wallpapers. Also, check out our educational videos for kids on our YouTube channel. Most videos are in the form of flashcards and therefore provide powerful learning tools that are used by students at all levels of education. Our videos cover not only math – addition, subtraction, multiplication, division, but also sight words for kindergarten and 1st grade, alphabet, shapes, counting 1-20 and 1-100, learning colors, months, days and telling time.
More free stuff at: http://www.genius777.com , http://www.planet12sun.com , or http://www.genius777.com.